At Bountiful, we care deeply about changing the lives of the children in our programs, and measuring our impact through the growth of enrolled children is how we make sure we're heading in the right direction.
Children are measured at program screenings, and categorized as chronically malnourished (too short or too thin for their age, otherwise known as stunted or underweight), acutely malnourished (too thin for their height, also known as wasted), at risk of malnourishment, and normal.
Every six months children are re-screened by the country coordinator by taking new height and weight measurements. The data is recorded digitally and uploaded to our database. This allows us to track their nutritional status and any changes that happen.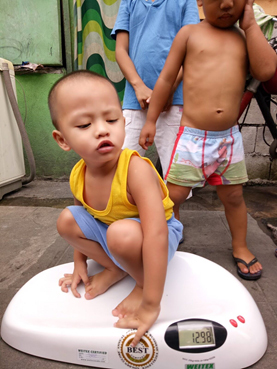 Children who have the greatest risk of dying have low weight for their height (wasted), so we especially want to see improvement moving kids out of this risk category. The Biomedical Informatics Department at the University of Utah has provided assessment of our data collection and utilization procedures.
Annual Statistical Report 2018
Each month we provide supplements for between 11,000 and 12,000 children. We also provide nutrition for over 1000 pregnant and lactating mothers each month.
We screen children every six months by measuring height and weight. Using WHO (World Health Organization) guidelines, we classify children's nutritional status as normal, at risk, chronically malnourished, moderate acute (MAM) or severe acute (SAM). Nearly two thirds of the children we evaluate are malnourished, highlighting the need for a program to treat this critical health issue.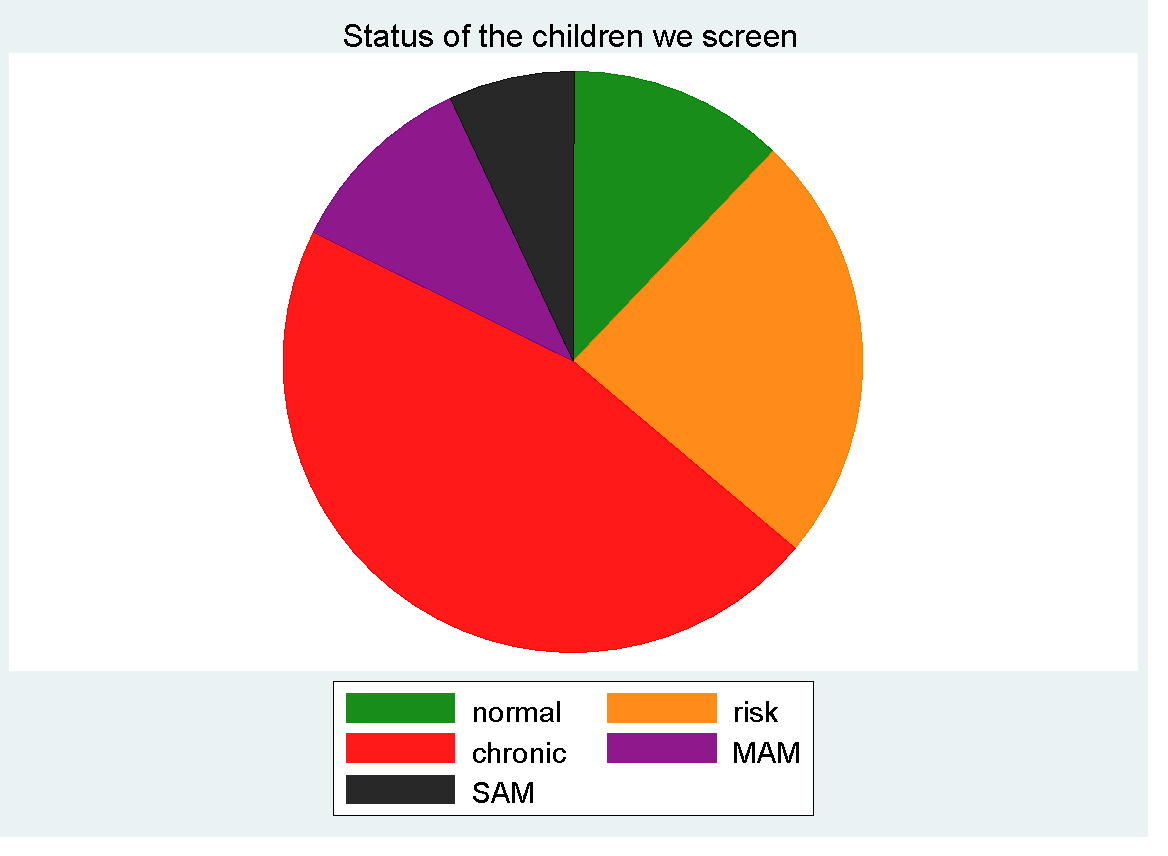 Prevalence of malnutrition varies across countries. Haiti, Kiribati and El Salvador are the only countries where fewer than half of the children we evaluate were not malnourished. Acute malnutrition is particularly high in Ghana, Colombia (partially due to refugees from Venezuela), Mongolia, Sierra Leone and Zimbabwe. To the extent possible given availability, we provide supplements that are designed for the type of malnutrition children experience.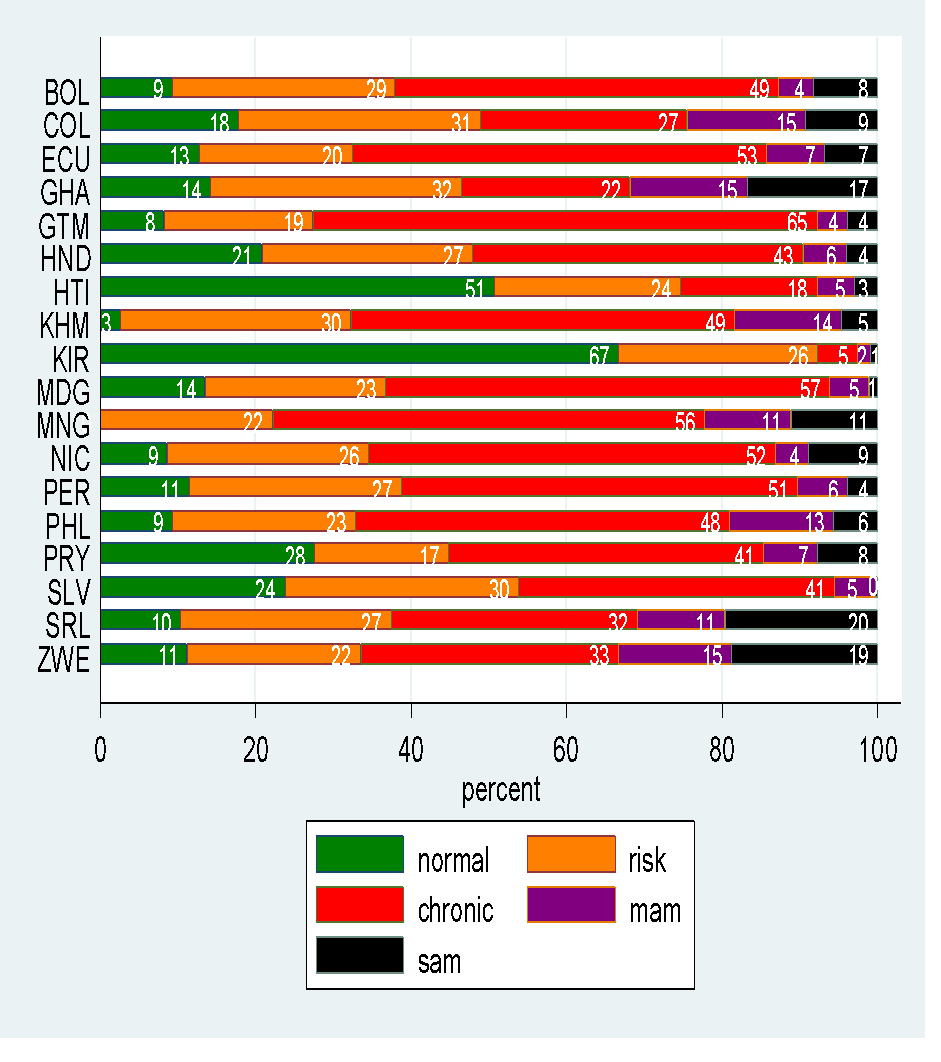 Impact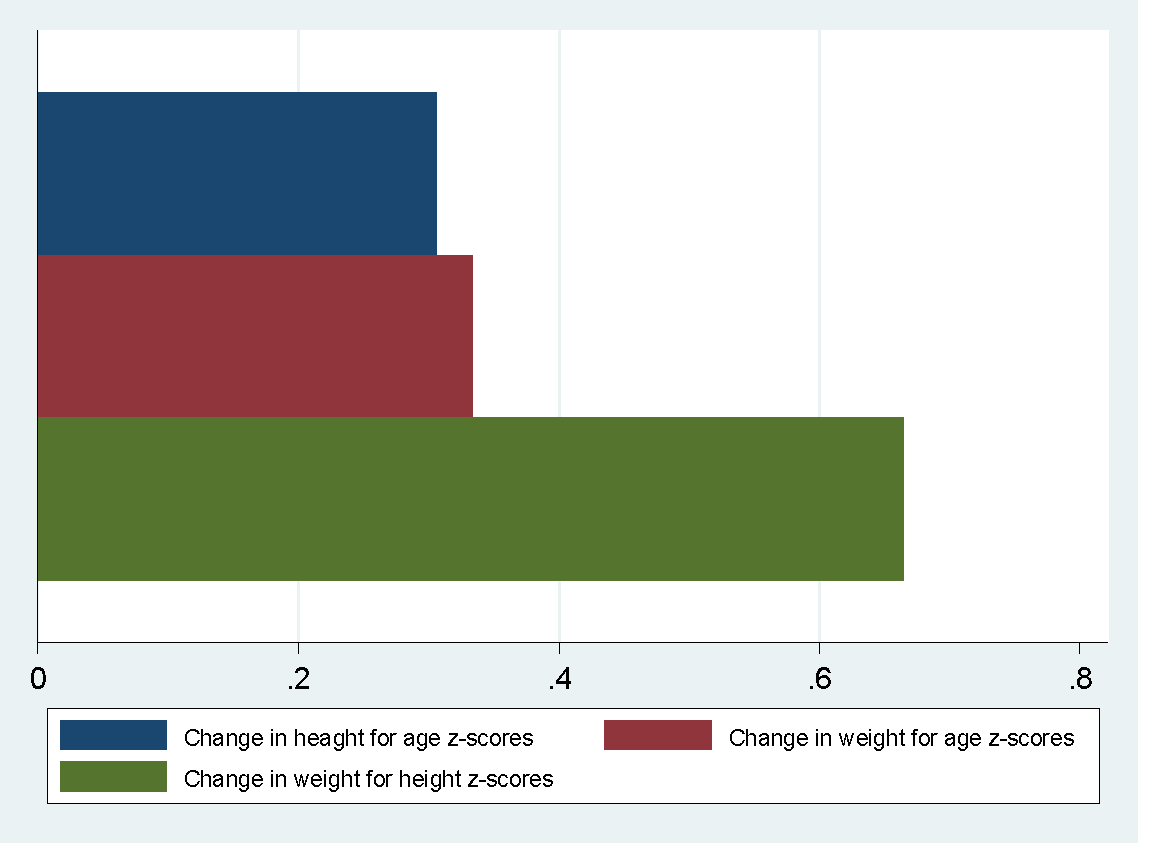 Children we treated show significant improvement in height for age (stunting), weight for age (underweight) and weight for age (wasting). Improvements in wasting are particularly impressive.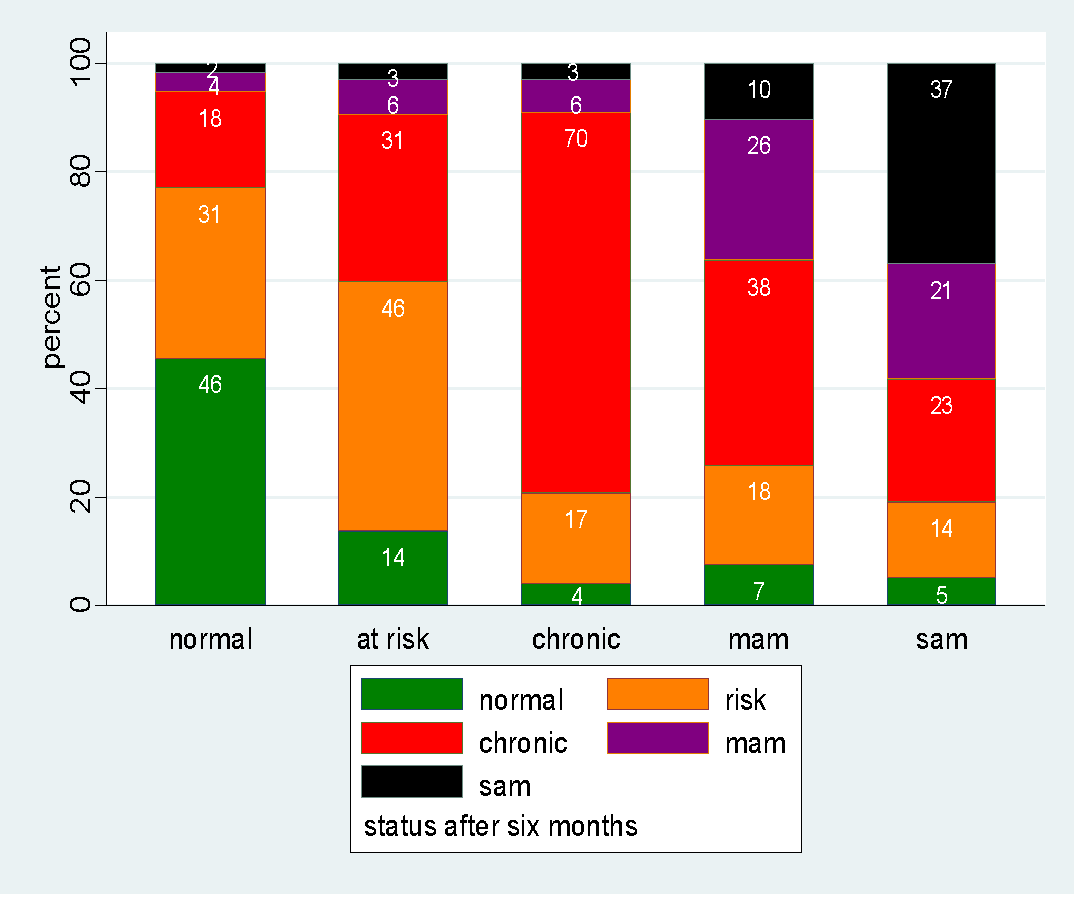 This graph shows progress of children between their first evaluation (shown across the bottom of the graph) and their status 6 months later (shown in the bars). Over half of the children who were normal at the first evaluation have declined to the point they are malnourished or at risk. Many of the children who were at risk on the first evaluation have slipped into malnutrition. Thus, it is important to reevaluate all children every six months. Children who are chronically malnourished to not experience dramatic improvement in six months. We see gradual improvement, but not enough to move them out of malnutrition. Many of these children are stunted and stunting is slow to change. We now offer nutrition to pregnant and lactating mothers to prevent stunting. It is also important to note that many children get worse as they age, and children in our program do not on average.
We have the greatest success with acutely malnourished children. A majority of moderately malnourished children have improved after 6 months, and progress is even better for severely malnourished children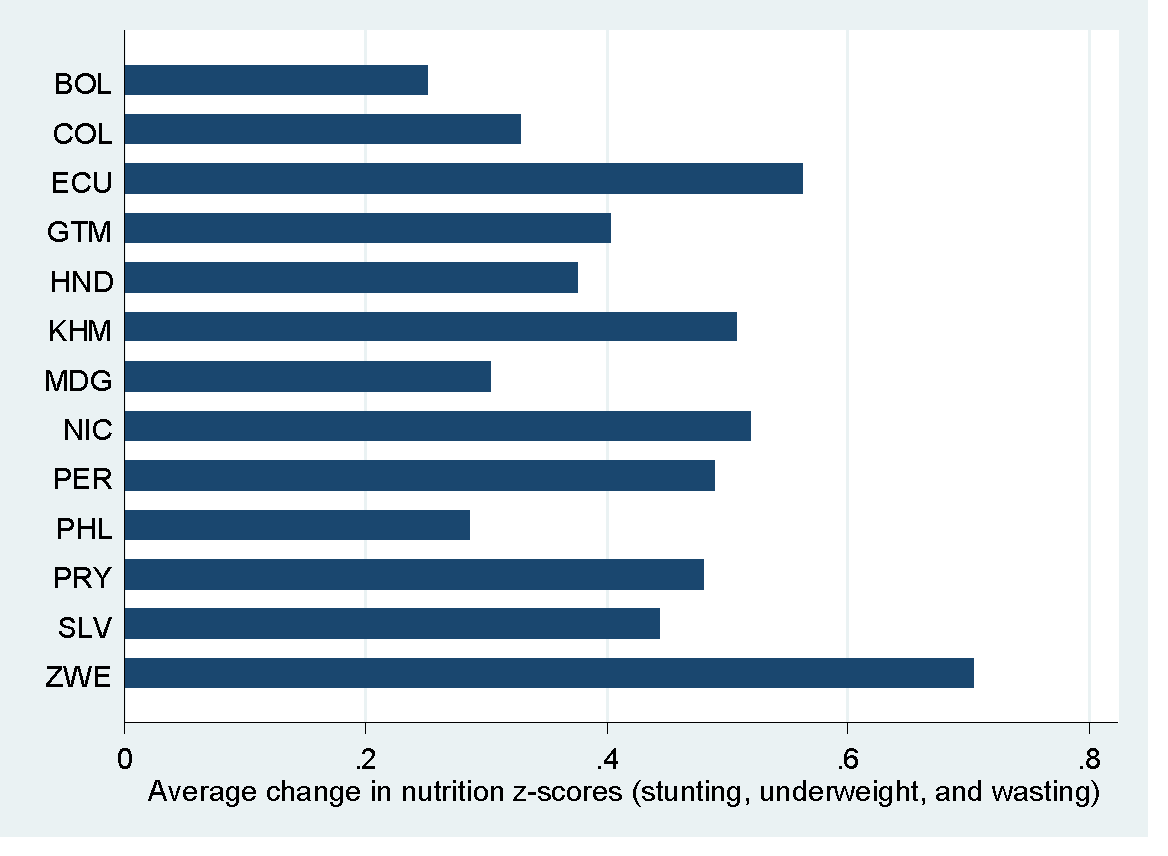 Children are equally divided by gender. Each of the countries with sufficient data show significant improvements in nutritional status. Boys and girls improve at the same rate. Improvements are larger in Ecuador and Zimbabwe, and smaller in Bolivia, Madagascar and the Philippines.